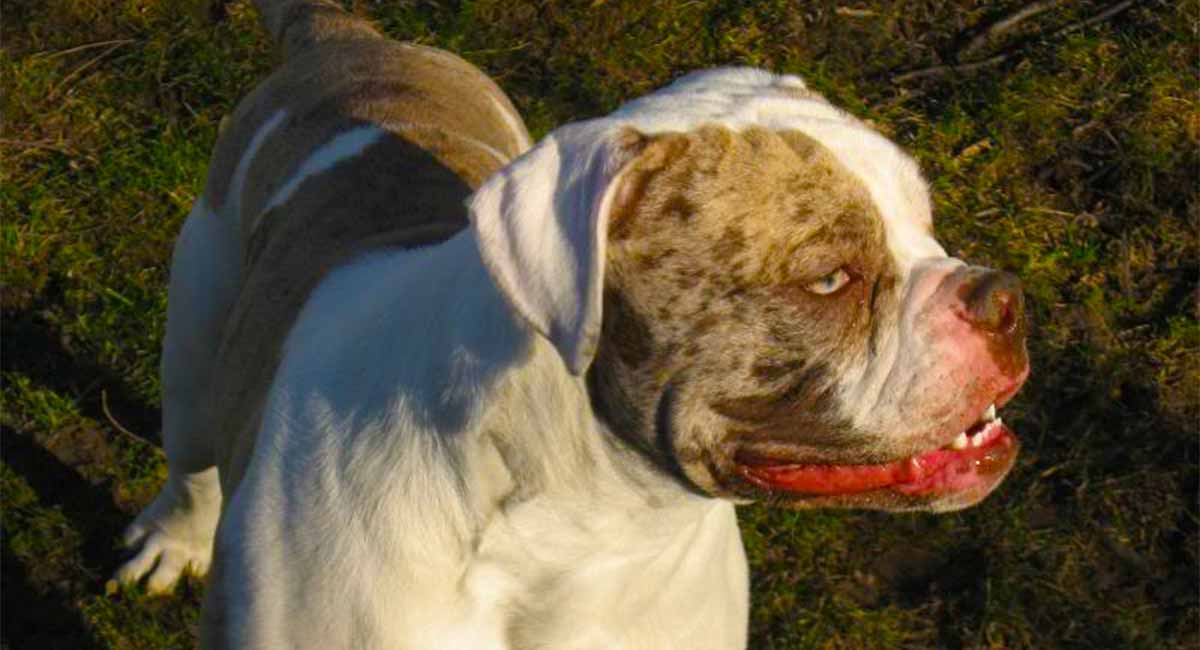 The Alapaha Blue Blood Bulldog is a rare breed from Georgia and looks like the early Bulldogs of England.
Originally developed as a 'catch dog', it was their job to herd cattle and hogs.
Today, these dogs are a family pet and protector.
In this article, we take a look at this unknown breed, from their appearance and temperament to training and health issues.
Where's the Alapaha Blue Blood Bulldog Come From?
The history of the Alapaha Blue Blood Bulldog was unknown before 1979 which leaves question as to their origins.
But, it's believed they came from southern U.S 200 years ago and descended from various Bulldogs and mixes brought by early settlers.
This includes the extinct Mountain Bulldog, Old Southern White and Old Country Bulldog.
These breeds were taller, more athletic, and without the facial conformation we see in the Bulldog today.
However, these dogs were not suited to the southern heat and bred with local Mastiffs and Curs to create a more robust dog.
Survival of the Alapaha Blue
These dogs almost became extinct during the Civil War in the U.S.
Thanks to a few farmers that didn't happen. One breeder, in particular, is credited with the survival of the breed and its name.
Buck Lane from Georgia began breeding with his dog, Otto and continued for over a century.
These dogs get their name from the Alapaha River. Lane also believed these dogs were noble and so added 'blue blood' to their name.
A small group of Southern dog lovers founded the Alapaha Blue-Blood Bulldog Association in 1979.
Fun Alapaha Blue Blood Bulldog Facts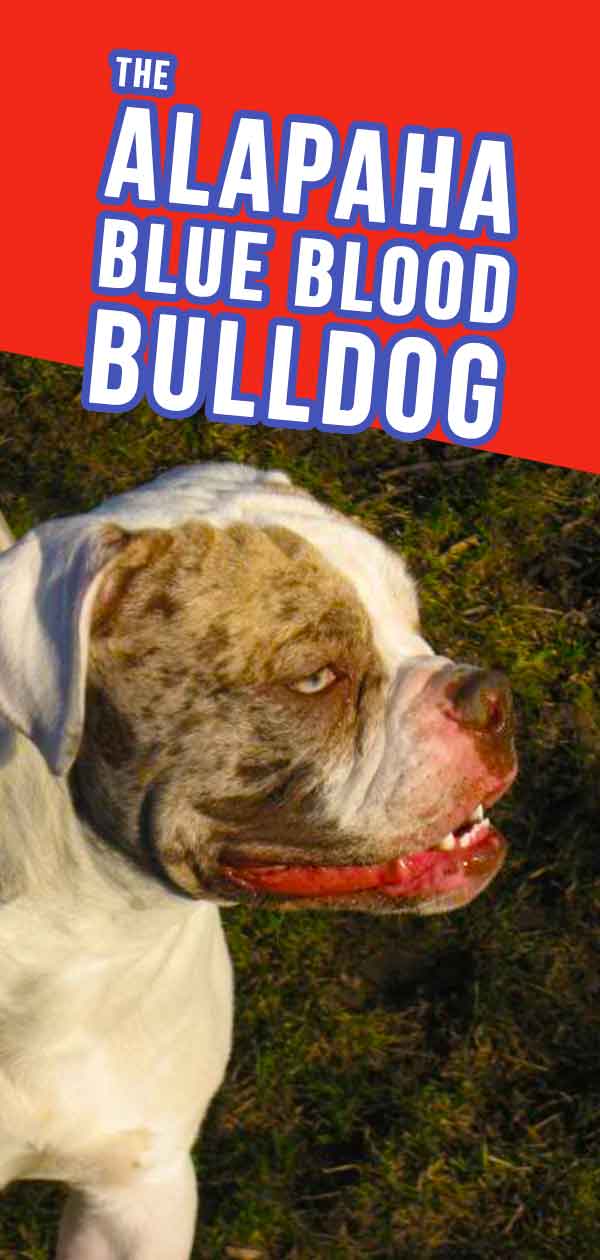 Before they were named, the Alapaha Blue Blood Bulldog, these dogs were known as Otto, Cowdog, Silver Dollar, and Catahoula Bulldog.
The Alapaha was used to create the American Pitbull Terrier, Catahoula Leopard Dog and Black Mouth Cur.
Alapaha Bulldog Appearance
The Alapaha is a medium dog that's stocky and muscular, yet athletic and agile.
They have a leaner physique and longer, straighter legs than the Bulldog.
Males stand from 20 to 24 inches and weigh 70 to 90 pounds. While females are 18 to 22 inches and 55 to 75 pounds.
This is a strong dog with a large, square head and powerful jaws.
The muzzle is square, broad, and medium in length, measuring from 2 to 4 inches.
In addition, ttheir short, smooth, glossy coat is sharp to the touch. It comes in white with patches of black, brown, red, and blue-merle.
Alapaha Blue Blood Bulldog Temperament
Due to their history, these dogs are prey animals and are very protective and territorial.
They can be suspicious of strangers and unknown dogs.
Alapahas are very observant, dutiful, and courageous and make excellent watchdogs.
Socializing your Alapaha
The breed requires socialization from a young age and throughout life to ensure good manners.
This means introducing them to a wide array of people, places and animals.
When socialized and trained, these dogs are outgoing, self-assured and loving.
They also make great family pets, but require a lot of attention to avoid separation anxiety and bad behavior.
Training Your Alapaha Blue Blood Bulldog
It's never too soon to start training your Alapaha Blue.
These dogs are smart and trainable, but the younger you start the better.
Use positive reinforcement methods that use treats and plenty of praise as rewards.
In addition, frequent and early socialization is key and these dogs also benefit from obedience training.
Exercising Your Alapaha Blue Blood Bulldog
Although the Alapaha has an athletic build, they don't require as much exercise as some.
Moderate activity of 20 to 40 minutes a day should be enough. Plus, they don't need a lot of space, but a secure yard is a good place for them to run off-leash.
Although the Alapaha Blue Blood Bulldog has a longer muzzle than the other Bulldogs, their face is still somewhat flat.
This could cause problems if they're over-exercised as they may  overheat.
Alapaha Blue Blood Bulldog Health
The Alapaha has a good life expectancy of 12 to 15 years, which is longer than other Bulldog breeds.
However, the short facial bones of the Bulldog make them a brachycephalic breed. This causes severe respiratory, dental, and eye problems.
Although the Alapaha Blue Blood Bulldog has a longer muzzle, they still may be affected.
If you're buying a puppy, check that the parents have no history of breathing problems.
Eye Issues
Entropion, in which the eyelid rolls or folds inward, causes irritation and can even scratch the eye.
In addition, dry eye is inflammation and deficiency of film over the surface of the eye.
Joint and muscular issues
However, they're still at risk for certain inherited health problems.
Hip dysplasia is a common condition found in many dogs.
This abnormal formation of the hip joints causes the ball to rub against the socket instead of gliding smoothly.
A genetic condition, it can also be affected by environment, such as obesity.
Congenital deafness is associated with the gene for white pigmentation and affects many breeds who have a white coat, including the Alapaha.
Alapaha Blue Blood Bulldog Grooming
The short coat is easy to care for. It sheds moderately and will require weekly brushing to remove debris and distribute natural oils.
Bathing should be done only as needed to avoid skin problems for which the breed is prone.
As with all dogs, their teeth should be brushed regularly.
Their ears should also be checked for signs of infection and nails clipped when you hear them click on the floor.
Feeding Your Alapaha
Feed them good quality food that's appropriate for their age and size.
Dogs who are less active should get fewer calories to avoid weight gain which can cause breathing disorders and hip dysplasia.
Do Alapaha's Make Good Family Dogs?
Alapaha Blue Blood Bulldogs will form a strong attachment to their family.
These are very loyal, dutiful dogs, who have a strong urge to protect.
Extensive socialization is required to ensure these dogs don't become overly territorial.
This breed demands attention. Without it, they're very likely to turn to dig up your garden or chewing your furniture.
These dogs are not recommended for first-time dog owners, families with young children or other pets unless they've been raised together.
Although these dogs are healthier than other Bulldogs, the muzzle length may be on the cusp of brachycephalic associated health problems.
Rescuing an adult is always an ethical option.
Rescuing an Alapaha Blue Blood Bulldog
Adopting an older dog offers some benefits.
It allows you to choose a dog that's been trained and socialized.
Missing the hectic puppy stage is also appealing, as is the lower price tag.
But, the best reason for going to a shelter is to give a dog a second chance to have a healthy, happy life.
Finding an Alapaha Blue Blood Bulldog Puppy
The rarity of the breed can make the search for a puppy a long one.
The Alapaha Blue Blood Bulldog Association is a good place to start.
They recommend breeders who keep to their standards and list those who've been banned.
Pet stores and online breeders who ship puppies directly should be avoided. These are likely to come from puppy farms.
These dogs are often mistreated and neglected, making for animals who are unhealthy.
In contrast, responsible breeders will be able to answer your questions and have proof of health clearances for both puppy's parents.
Our puppy search guide gives you steps on how to avoid common mistakes when choosing a puppy.
Raising an Alapaha Puppy
An Alapaha Blue Blood Bulldog puppy will be more than a handful.
Even experienced dog owners will need some sound advice to ensure this strong breed grows to be a well-behaved dog.
Our puppy care and puppy training guides offer advice on everything from stopping chewing to introducing him to a cat.
Alapaha Blue Blood Bulldog Products and Accessories
Before you bring an Alapaha into your life, make sure you're stocked up with accessories.
Pros and Cons of Getting an Alapaha Blue Blood Bulldog
This summary gives you a look at the good and bad aspects of this breed at a glance.
Cons:
Protective and territorial
Suspicious of strangers and other dogs if not well-socialized from a young age
Prone to separation anxiety and destructive behavior if left alone
Prey drive makes them unsuitable for homes with young children and other pets
Require a lot of attention and training
Pros:
Excellent watchdog
Easy to groom
Trainable
Loyal and devoted to their family
Healthier conformation and a longer lifespan than other Bulldog breeds
Moderate exercise requirements
Similar Breeds
If you're unsure if the Alapaha Blue Blood Bulldog is the right pet for you, here are some similar breeds to consider:
Rescue Centers
These rescues for Bulldog breeds may have Alapaha's available.
Is an Alapaha Blue Blood Bulldog Right For Me?
The Alapaha requires extensive training and socialization, as well as a lot of time and attention.
Before you bring this dog into your life, ensure you can make a commitment to their care and well-being.
As a Bulldog breed, they may be prone to some conformational problems and this should also be considered when buying a puppy.
If you have other pets, young children, or this is your first dog, you should consider another breed.
What are your thoughts on the Alapaha Blue Blood Bulldog? Let us know in the comments.
References and Resources
The Alapaha Blue Blood Bulldog Association
Fasanella, FJ, et al., "Brachycephalic airway obstructive syndrome in dogs: 90 cases (1991–2008)," Journal of the American Veterinary Medical Association, 2010
Brass, W., "Hip dysplasia in dogs," Journal of Small Animal Practice, 1989
Strain, GM, "The genetics of deafness in domestic animals," Frontiers in Veterinary Science, 2015
Stern, ME, et al., "Autoimmunity at the ocular surface: pathogenesis and regulation," Mucosal Immunology, 2010
Get Pippa's free dog training tips delivered to your inbox